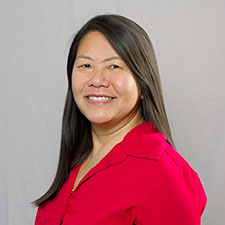 Theresa Ko
CPA, CA

Theresa is a Chinese Canadian born in the Fiji Islands. Her family emigrated to Canada when she was eight years old. Beginning in 1986, she studied and practiced Accounting, Tax, and Auditing through the Cooperative Education Program at Simon Fraser University and KPMG, Chartered Accountants. During her studies, she earned many distinctions, including the Simon Fraser University Entrance Scholarship and Open Bursary, B.C. Post-Secondary Scholarships, and the Business Administration Dean's Honour Rolls. She also integrated French language studies with her business studies to obtain a French Proficiency Certificate in addition to an honours degree in Business Administration.
After obtaining her Chartered Accountancy designation in 1991, she continued full-time employment within the Personal Advisory Services group at KPMG where she was promoted to Manager specializing in personal tax and financial planning for health care professionals and high net worth individuals. She researched technical tax issues, and advised clients on personal and business financial matters. She coordinated and trained over 100 personnel for personal income tax preparation seasons, and supervised, trained and reviewed the work of a team of nine accounting staff throughout her four years with the Tax group.
She also assisted in research projects for the B.C. Medical Association in conjunction with Peat Marwick Stevenson & Kellogg Consulting investigating the Impact of GST on Medical Practitioners' Overheads, the Financial Effects on Physicians of Switching from Manual to Electronic Billing of the Medical Services Plan, and Physicians Overhead Costs.
While working, she continued her professional development by taking courses in various other specializations. She has completed the Canadian Securities Course, Personal Financial Planning Workshops, Canadian Life and Disability Insurance Courses, the Canadian Institute of Chartered Accountants 7 Days In-depth Tax Course and various other tax, computer, teaching, leadership and financial planning courses.
She founded the public practice accounting firm of Theresa Ko, Chartered Accountant in 1996 to service individuals and their businesses. She also founded Promedent Administration Inc. in 2000 to provide affordable private health services plan administration services. Promedent's website can be found at www.promedent.ca.
Throughout her life, she has been active in a myriad of community and volunteer activities. Her leadership roles have included accounting club vice-president, parish and community fundraiser financial officer, parish finance committee member, religious education teacher, youth coordinator and minister, choir president, parish councilor and advisory board member for non-profit organizations.
In addition to her interests in financial planning, real estate and investing, she enjoys camping, hiking, bicycling, and floor hockey.